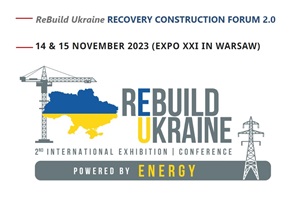 With these videos, FIEC invites you to take part in a large-scale event dedicated to the reconstruction of Ukraine. On 14 November 2023, the RECOVERY CONSTRUCTION FORUM 2.0 will take place at the EXPO XXI congress center in the city of Warsaw, Poland (St. Pradzynskiego 12/14, 01-222).
The Recovery Construction Forum is the platform to enhance communication among the partner countries' construction industries to accelerate the Ukraine reconstruction phase.
The event will be attended by representatives of the Ukrainian and European construction sector, representatives of the state authorities of Ukraine and other countries of the European Union.
For further information and to view all speakers, check out the online event programme.
You can still buy tickets for the RECOVERY CONSTRUCTION FORUM via this link.
MEDIA FOR REBUILD UKRAINE
Background info:
International Trade Exhibition and Conference ReBuild Ukraine
The main objectives of this event is to attract the fundraising from international institutions for the recovery of Ukrainian communities, to assist Ukrainian energy companies in the restoration of the critical infrastructure facilities affected during war aggression, and to promote an investment appeal of the cities and regions of Ukraine. These areas support millions of temporary displaced families and have favourable investment possibilities.
The 2nd edition of ReBuild Ukraine creates a platform to unite State authorities, international donors and financial organizations, territorial communities, representatives of charity funds, investment bodies, development agencies, public and private providers, energy distribution, energy supply companies, construction and architectural companies, engineers. It will offer active participation of the business in rebuilding Ukraine.
Among the speakers and guests, there are representatives of National authorities from Ukraine, Denmark, Poland, Finland, United Kingdom, Sweden, who have been invited to share their vision regarding the reconstruction process.
Read more on the event website.
Media Accreditation:
Fill in the online press accreditation form.
PLAY YOUTUBE VIDEOS (click on the below images or on names)
Event teaser - FIEC President, Philip Crampton